Martha's Vineyard and New Bedford share a lot, including a fast ferry, a historic fishing industry, and now Saundra LaBell Designs! I'm very excited to announce that my Sea Creature Onesies and Bibs are now available at New Bedford Fishing Heritage Center!   

Located at 38 Bethel Street, New Bedford Fishing Heritage Center offers programing for the general public, as well as k-12 schools, that focuses on "presenting an authentic story, celebrating diversity, fostering respect, [and] educating the public." They do this through use of their "library/archive, theater, classroom, galleries, and a commercial kitchen."  
 One of the ways New Bedford Fishing Heritage Center supports itself is by partnering with artists to offer locally-made items in their gift shop. I am so happy to be included in their effort! Every Saundra LaBell Designs Sea Creature onesie and bib is hand-printed with a 100% original design I've manually carved into linoleum or rubber to create a one-of-a-kind stamp.  I use water-based ink that is better for baby and the environment than plastic/vinyl; and with none of the flaking or pealing that can sometimes happen with vinyl transfers. Prints range from bright and bold to vintage/distressed. All prints  are equally durable because they're allowed to set for at least 24 hours before being heat-cured at a very high temperature. This insures the ink is more fully integrated into the actual fabric of the item and will hold up through use and wash.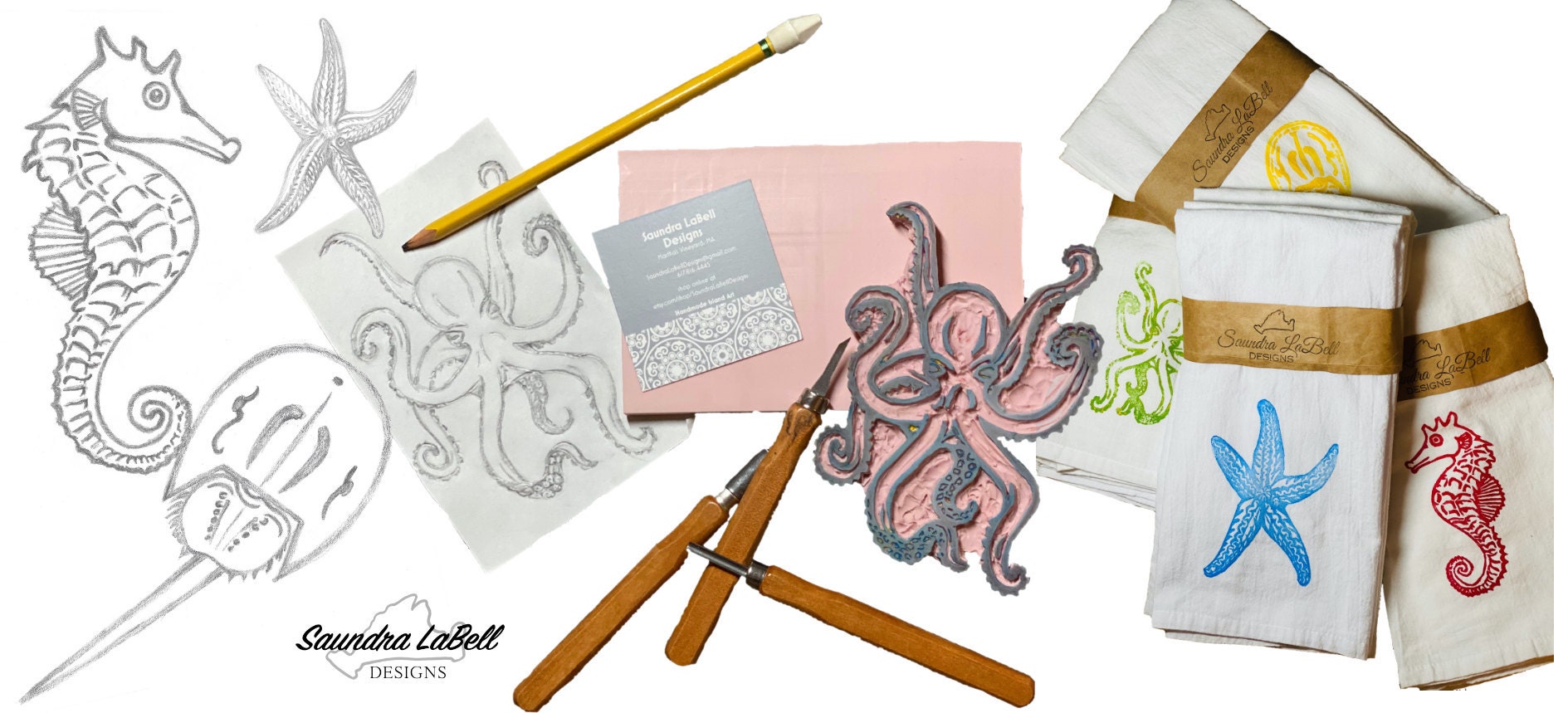 Sea Creature prints also available as tea towel sets and individually here! 
Now is when my friends and family will make fun of my collaboration with New Bedford Fishing Heritage Center due to my vegetarian diet and debilitating fear of deep waters. I'm sorry, but I've grown up where Jaws was filmed! Not a ringing endorsement for enjoying the ocean and all the creatures that lurk below. That said, as an islander I know I'm in the minority here. And a healthy fear of the sea and it's mysteries also fuels my fascination of them. A lot of art I do, whether it be fabric-based, or drawings and paintings, is related to the sea. After all, it's literally all around me and often plays a part in how we on the Cape, Islands and in the North East live our lives on a daily basis.   
So next time you're in the area please visit New Bedford Fishing Heritage Center. Learn about our shared history, have a fresh caught meal, and stop by the gift shop for Saundra LaBell Designs Sea Creature Onesies and Bibs! Your purchase will support local artists and a very important cultural and historical institution!   
XO from MV, 
Saundra 
p.s. Please post some fun fishing facts in the blog comments after you've visited New Bedford Fishing Heritage Center!